About ABC Reading Eggs
Visit www.readingeggs.com.au
ABC Reading Eggs is a powerful educational tool based on the most up-to-date research on how children learn to read. The multi-award winning online reading program is designed for children aged 3 – 13 to help build essential literacy skills including phonemics, fluency, vocabulary and comprehension.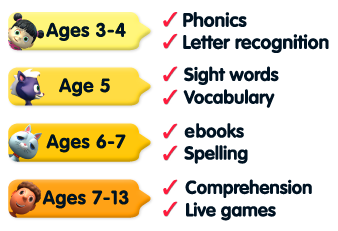 ABC Reading Eggs provides a comprehensive range of online reading lessons, interactive activities, captivating e-books and exciting rewards to help build your child's reading skills in a fun and engaging way. Developed by a team of highly experienced Australian primary educators, your child will benefit from the one-on-one self-paced program that's delivering real results to children across Australia.
To claim your 5 week FREE access for your child to participate in the ABC Reading Eggs Read-To-Cure Challenge, please visit www.readingeggs.com.au/gof.
Join the conversation #ReadToCure